Flat roof problems solved. Period.
Welcome to Lone Mountain Roofing, where we specialize in solving flat roof problems throughout the Albuquerque, New Mexico area.
Since 1973, Lone Mountain has been helping New Mexicans maintain the value and safety of their homes and businesses by providing secure, leak-proof roofs. In fact, flat roofs are all we do, and we've installed thousands of affordable commercial-grade flat roofs for homes and buildings throughout the state.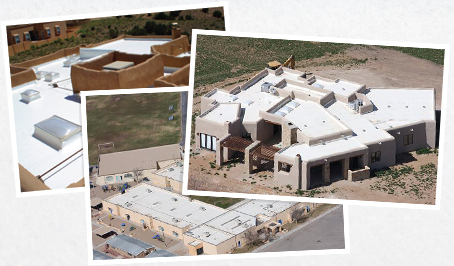 Why you should choose Lone Mountain
The #1 residential and commercial roofer in New Mexico. No one has installed more thermoplastic roofing than Lone Mountain: more than 20 million square feet.
Flat roof specialists. Because flat roofs are all we do, we have the expertise to solve any flat roof problem.
Experienced, trustworthy roofers. Fully licensed and bonded. Many of our team members have been with us for 10-20 years.
Honest service from a local company. Family owned and operated since 1973.
Commercial-grade materials. Your home or commercial structure will be protected by the same high-quality, proven roofing system we install on shopping malls, office buildings, and other commercial structures.
Quick Facts about Lone Mountain Roofing
Where we are: Bosque Farms, New Mexico. Serving Albuquerque and Central New Mexico (from Santa Fe to Socorro, and from Moriarty west to Grants). Our commercial roofing division works statewide.
Special areas of expertise: Flat roof specialists for over 30 years, LEED, Energy Star, and EPA certified green roofing experts, exclusive installer of Pro-Ply commercial-grade lightweight single-ply thermoplastic (KEE, TPO & PVC) roofing systems. Pro-Ply is an affordable, higher-quality alternative to tar & gravel, rubber (EPDM), foam, and other flat roof systems.
Services we offer: residential and commercial new and re-roofing, Lifetime Residential Warranty
Contact info: Phone: 505.869.2629 – Statewide: 800.753.3416 – Fax: 505.869.9411
General Contracting/Track & Field Division: 505.869-2996 – Fax: 505.869.2412
Address: 145 Bosque Farms Blvd. – Bosque Farms, NM  87068